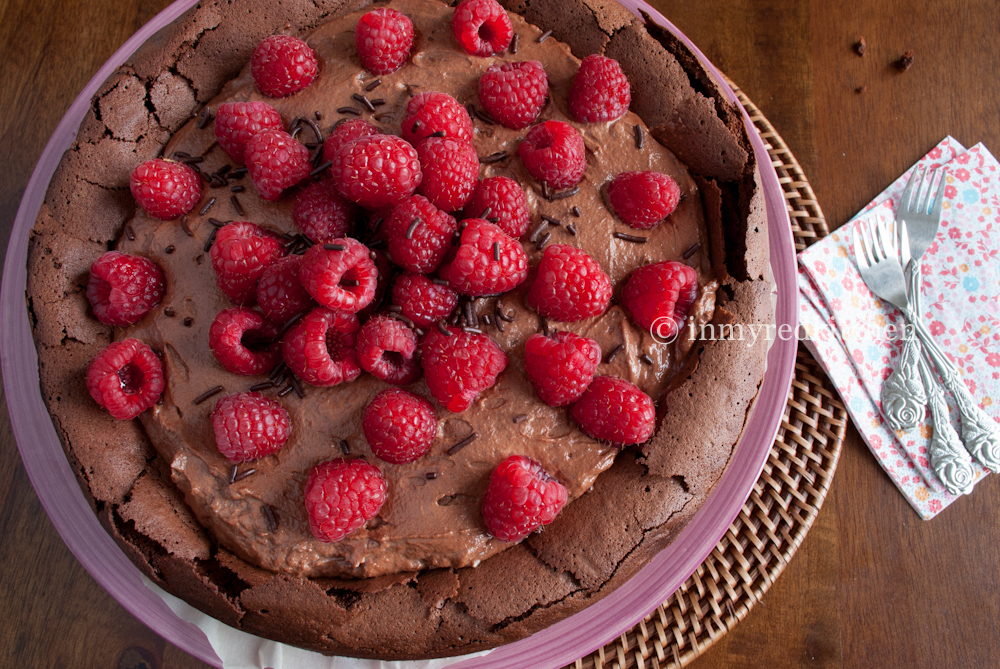 Do you believe me if I tell you this was the first chocolate cake I've ever made in my 31 year old life?
Well, it is… Don't get me wrong, I really like chocolate especially when it's good quality and when there is some filling or salt involved 😉
And I also like baking cakes but tell me: who is gonna eat all that delicious goodness?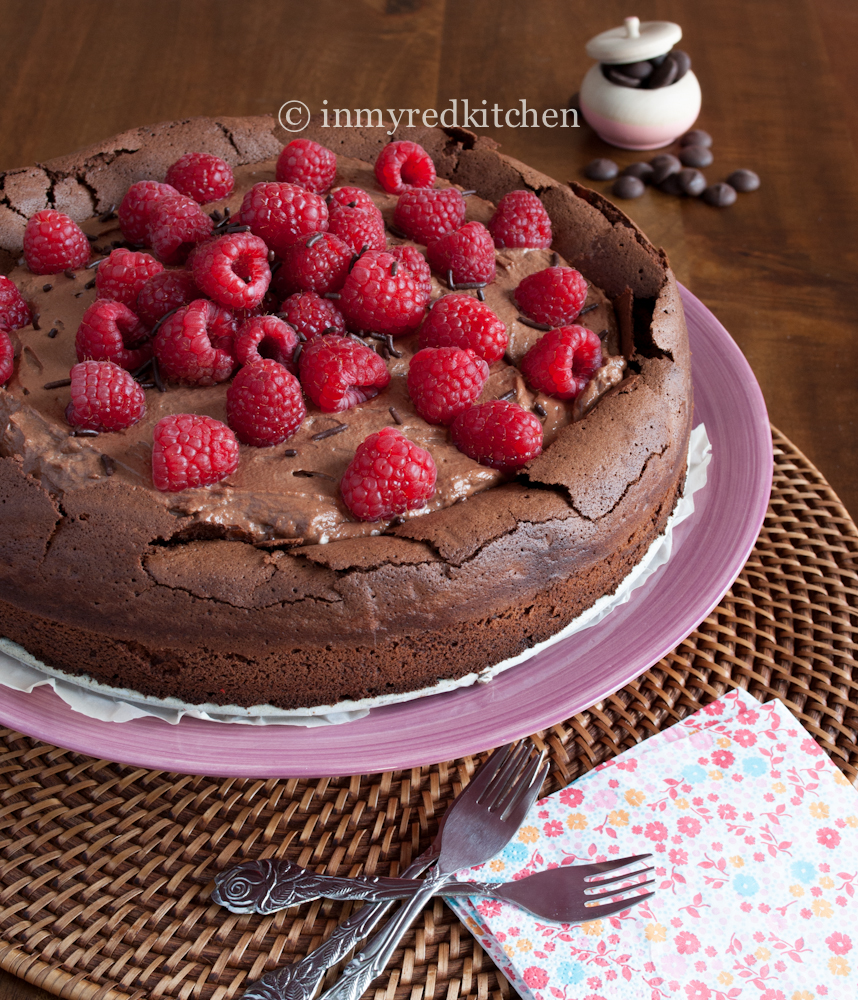 So although I want to, in the end I don't bake much and that's how it happened this divine chocolate cake was the first chocolate one I've ever made.
And it was gooooood! Wow, really moist and rich, the way you want a chocolate cake to be.
I've made this cake for the Foodblogswap of October, the foodblogswap is a monthly happening were Dutch foodbloggers cook something from each others blog. This month I had to make a recipe from the blog Kookmeisje.nl and I made these delicious oatmeal pancakes for my Dutch blog. But… I couldn't stop thinking about this yummy chocolate cake, so I decided to just do it.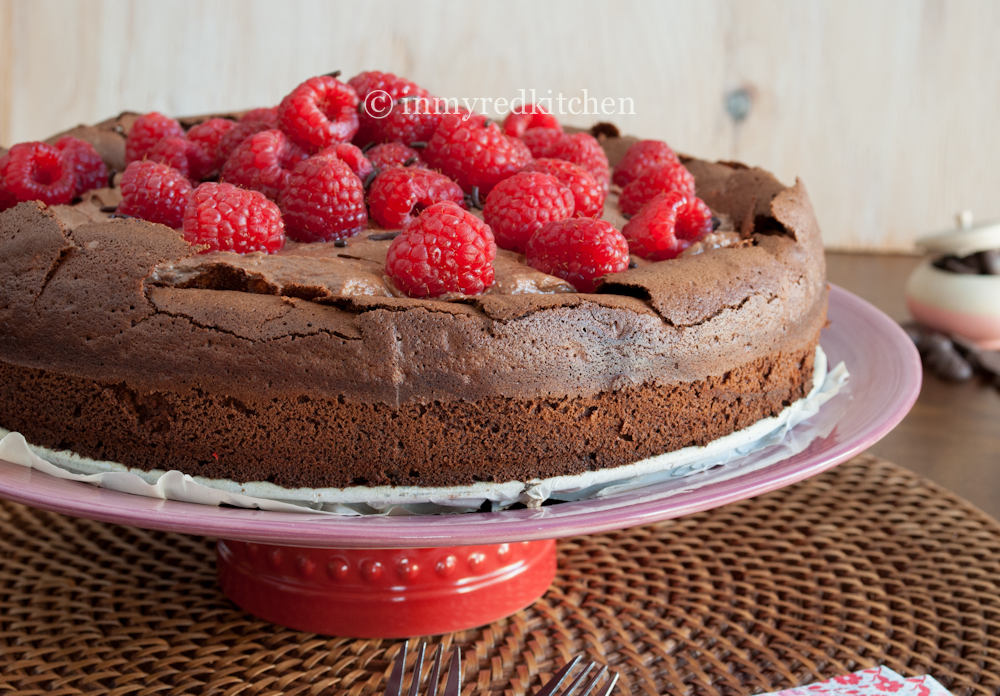 Just make a cake and eat it all by myself.
No, I'm kidding.
I made this cake as a dessert for a dinner we had with friends. I ate one piece, just one single delicious and divine piece of this gorgeous chocolate cake.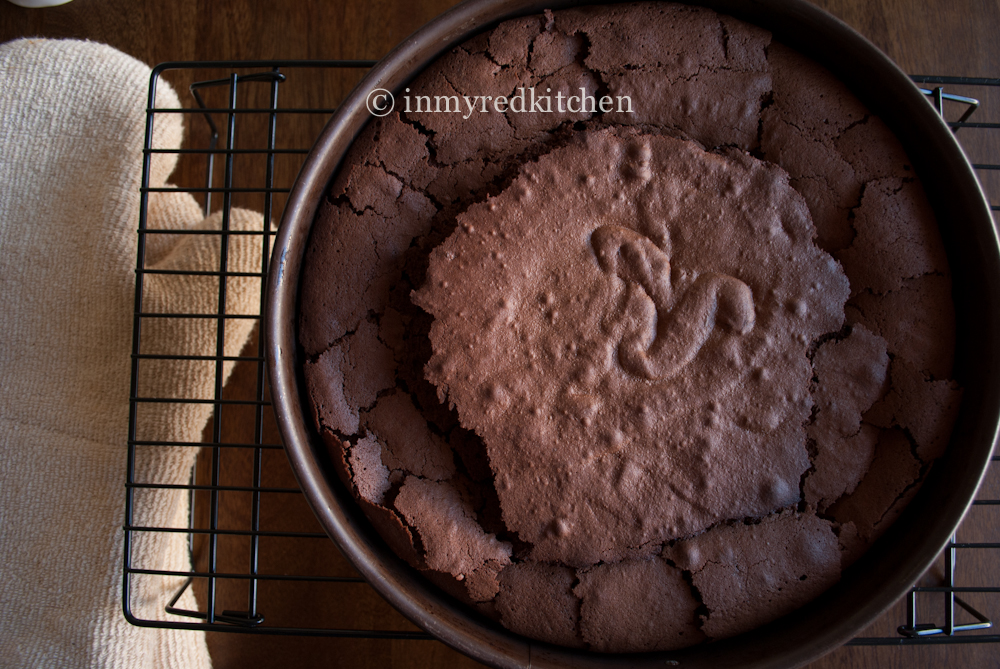 At first I was afraid the chocolate cream was too much with the chocolate cake, but I was wrong. The cream is light and it compliments the cake so good, this cake is definitely a Divine Chocolate Cake!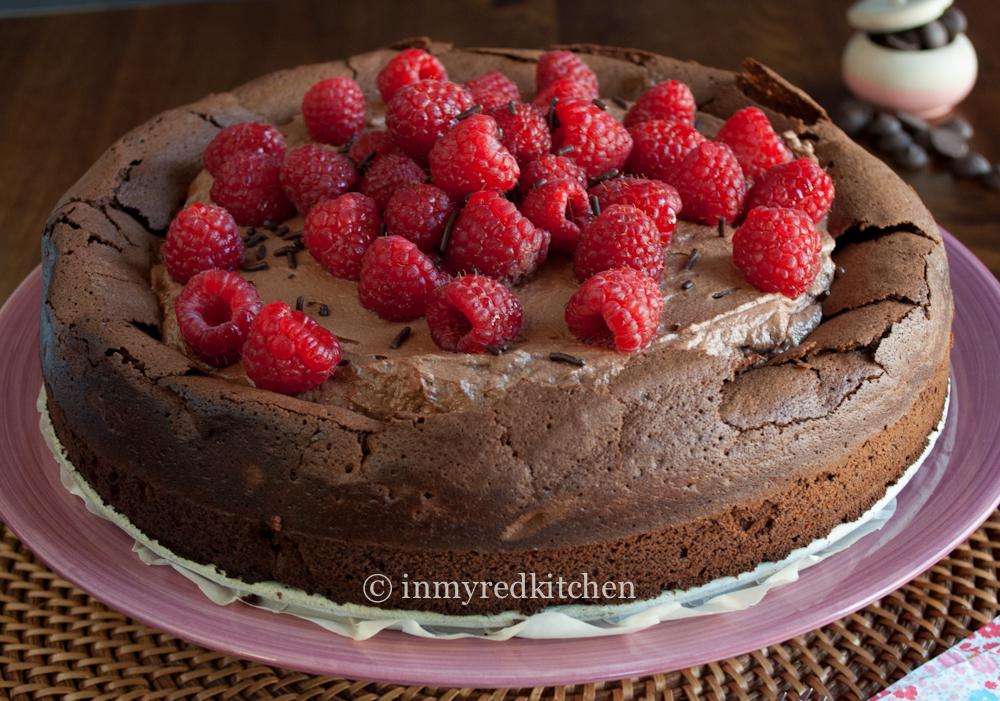 Everybody needs some chocolate sometimes, so go ahead and make this delicious Divine Chocolate Cake with raspberries. It's perfect!
Ingredients
for the chocolate cake

10 oz pure chocolate chips
1 stick unsalted butter
6 eggs (4 egg whites, 4 yolks, 2 eggs)
½ cup + 1/3 cup of sugar
1 tsp vanilla extract

for the chocolate cream

5 oz pure chocolate chips
1 cup cream
1 tsp vanilla extract
6 oz raspberries
Instructions
Preheat the oven to 360 degrees Fahrenheit.
Line a spring form with parchment paper.
Melt the chocolate and the butter au bain marie. Let it cool off. Yes do that, it's important!
Use a large bowl and beat the 4 egg whites with ½ cup of sugar until stiff.
Get a second bowl and mix the 2 eggs and the 4 yolks with 1/3 cup of sugar and the vanilla extract.
Use a spatula to fold the cooled chocolate into the second bowl with the whole eggs. Mix until well combined.
Now fold the egg whites into this mixture, use the spatula but don't mix too long! You want to end up with a fluffy mixture so mix until just combined.
Pour this fluffy chocolate mixture into the spring form and bake the cake 35 to 40 minutes in the preheated oven.
The cake will look like it's cracked. And that's totally ok 😉
Carefully remove the outer ring of the spring form and let the cake cool off.
Make the chocolate cream: melt the chocolate chips au bain marie and let them cool off.
Beat the cream until stiff, when the chocolate is cooled you mix the cream with the chocolate and the vanilla extract.
Pay attention now: is your cake still a bit warm? Just wait, be patient, you don't wat to ruin this.
So when your cake is completely cooled off you put the chocolate cream on top. Go on, make it look authentic 😉 Put the raspberries on top and EAT!
https://www.inmyredkitchen.com/divine-chocolate-cake/
Copyright Ellen Bannink- in my Red Kitchen
Enjoy!