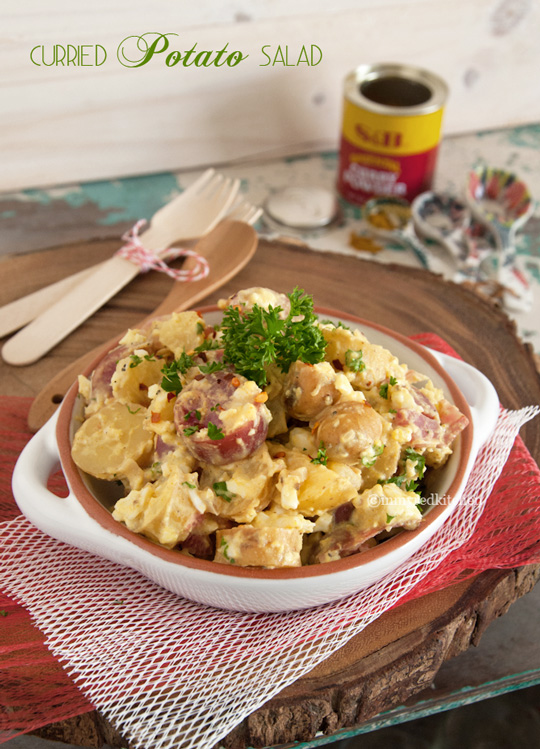 Can somebody please explain why the Americans celebrate Saint Patrick's Day, which is an Irish holiday?
My sister is visiting and I explained it to her as 'the Americans just like holidays, so they adapted this Irish holiday'.
But please tell me if I'm correct and besides that… Whát are we actually celebrating? I know about the green color, the clovers and those leprechauns. But why? And how?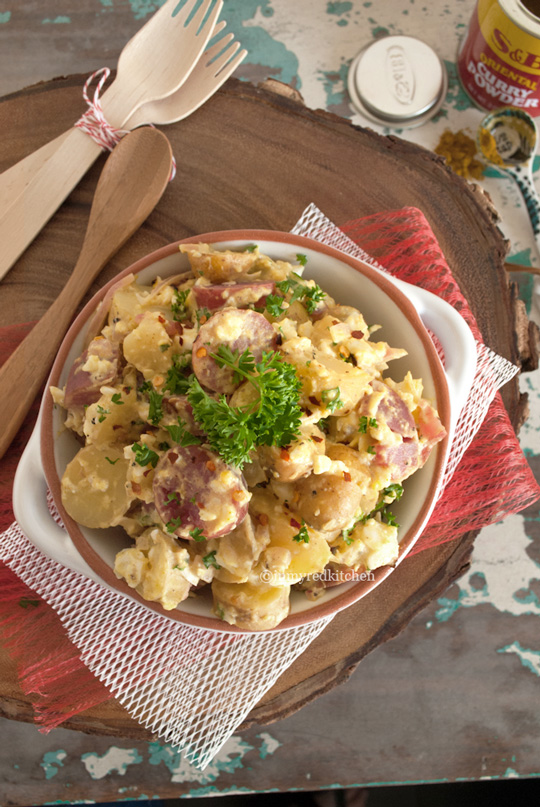 This year I learned potatoes are also typically something for St. Patrick's Day… But uhm.. how? What does the potato has to do with it? Because to me, potatoes are typically Dutch 😉 Boiled potatoes served with vegetables and meat, or potatoes boiled with the vegetables and then mashed together, as a potato and veggie puree.
That's what I grew up with. And it's also something what I would never cook myself now. Except for this Sweet potato and kale mash. You see, I really like sweet potatoes so I buy them more often than 'normal' potatoes. Normal potatoes remind me of my not-so culinairy childhood. Nothing wrong with that, it's just like potatoes are just… uhm… potatoes. Nothing special going on there.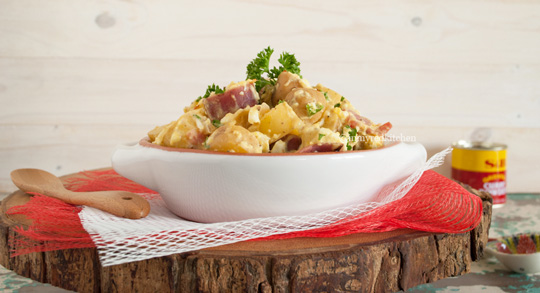 But the one potato dish I dó like is potato salad. Normally I would make my potato salad with slices of peeled potato but when I saw these cute fingerling potatoes I knew I had to leave the skin on and chop them in bigger pieces. And hey, it also saves you time 😉
We both liked this curried potato salad that much that I will be serving it at the barbecue party at the beach for my birthday this upcoming weekend. So that would be a 'beach barbecue birthday party' or a 'barbecue beach birthday party'… I still haven't figured out what's the best name for it. But we will be having lots of fun with delicious food and drinks. And this curried potato salad! It also has an egg in it. Yes please, can't stop, won't stop!
Please enjoy this one: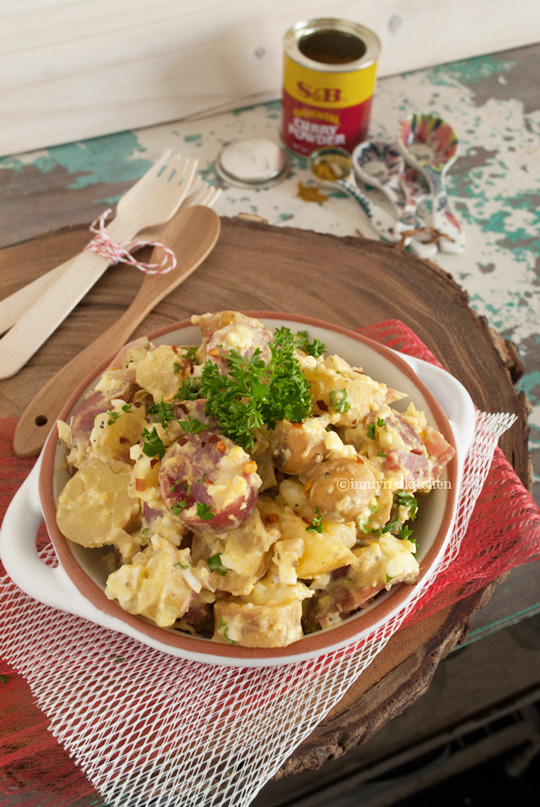 A curried potato salad with egg and mustard is a perfect side dish for my barbecue party this weekend!
Ingredients
1.5 lb fingerling potatoes
3 cups broth
½ red onion, thinly sliced
½ cup white vinegar
1 Tbsp sugar
3 hard boiled eggs
2 Tbsp mayonnaise
2 Tbsp chopped parsley
1 Tbsp plain yogurt
2 tsp mustard
1 tsp curry powder
salt & pepper to taste
pinch chili flakes
Instructions
Cut the potato (skin on) in equal pieces and add to a pan. Add 3 cups of broth and bring to a boil.
After 5 minutes of boiling, add the red onion, vinegar and sugar. Bring to a boil again and let cook for another 3 minutes.
Transfer the pan to the counter and let it stand for 10 minutes.
In the meantime crumble the hard boiled eggs with a fork.
Combine the mayonnaise, parsley, yogurt, mustard and curry powder in a small bowl.
Drain the potatoes and mix them with the crumbled eggs. Add the mayonnaise sauce and mix until combined.
Add salt, pepper and chili flakes to taste.
https://www.inmyredkitchen.com/curried-potato-salad/
Copyright Ellen Bannink- in my Red Kitchen
Enjoy!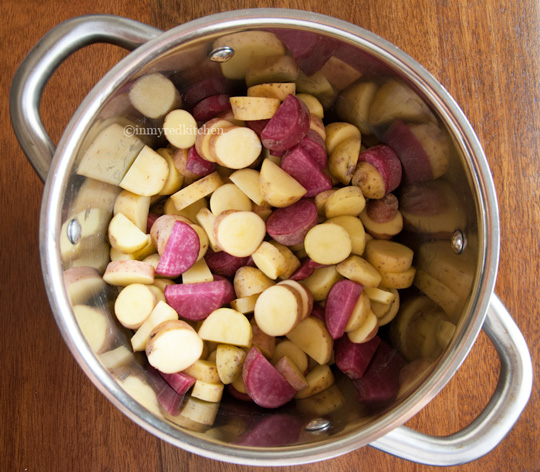 Please note: The lovely people at Frieda's provided me with these great assorted fingerling potatoes. Aren't the purple ones cute? Thank you Frieda's!
You can find Frieda's products at Ralphs and Sprouts (LA Area). If you can't find what you're looking for, you can always ask your produce manager at the local store to order from Frieda's!