– Click here for this recipe in Dutch -> Kip Madras zonder pakjes –
I'm always a big fan of homemade food so when my brother sent me a picture of the dinner he was cooking at that moment I made a promise.
A promise to do a post on Chicken Madras curry. So here it is.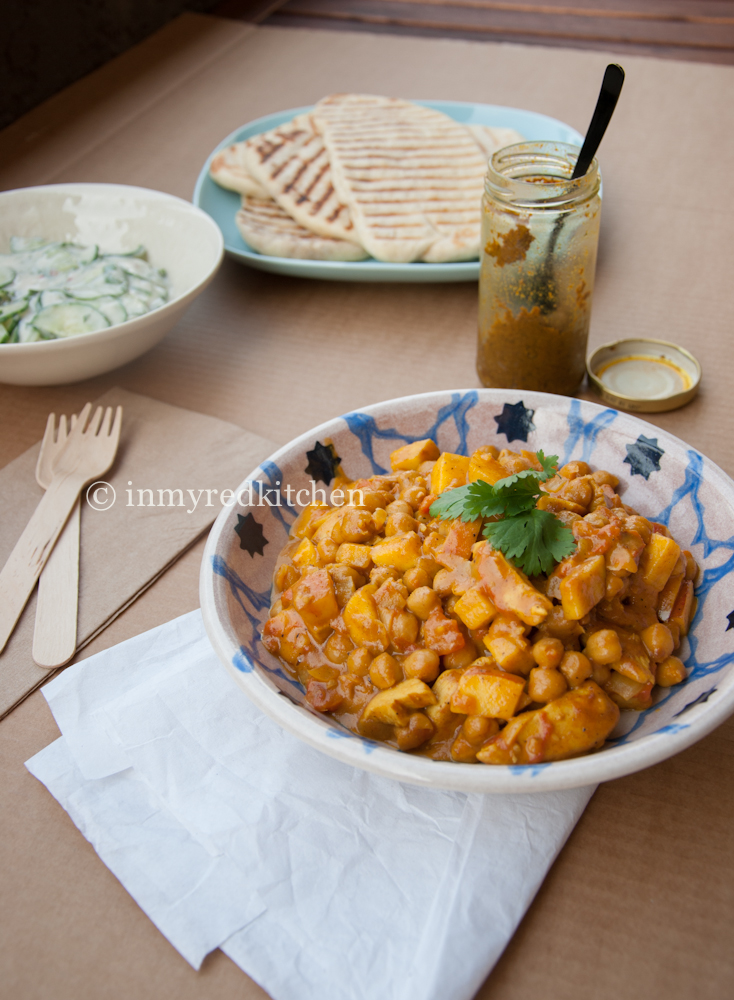 This curry is a populair dish in the Netherlands and it all comes from a package. These kinds of packages all go under the name 'Wereldgerechten' which means World Dishes. There is Italian lasagna, Mexican burrito's, Indian chicken tandoori, Greek kofta, Morrocan chicken tajine, Spanish paella, Japanese teriyaki and so on.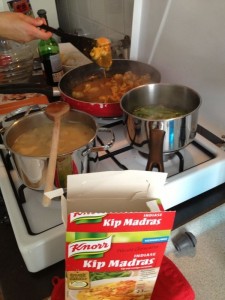 And I have to admit, I also used to prepare those Wereldgerechten quite often. But that is more than 8 years ago.
Now I know better. I know that making those dishes yourself from scratch are so much healthier, tastier and just better in the end. And it even doesn't take that much extra time to make it from scratch.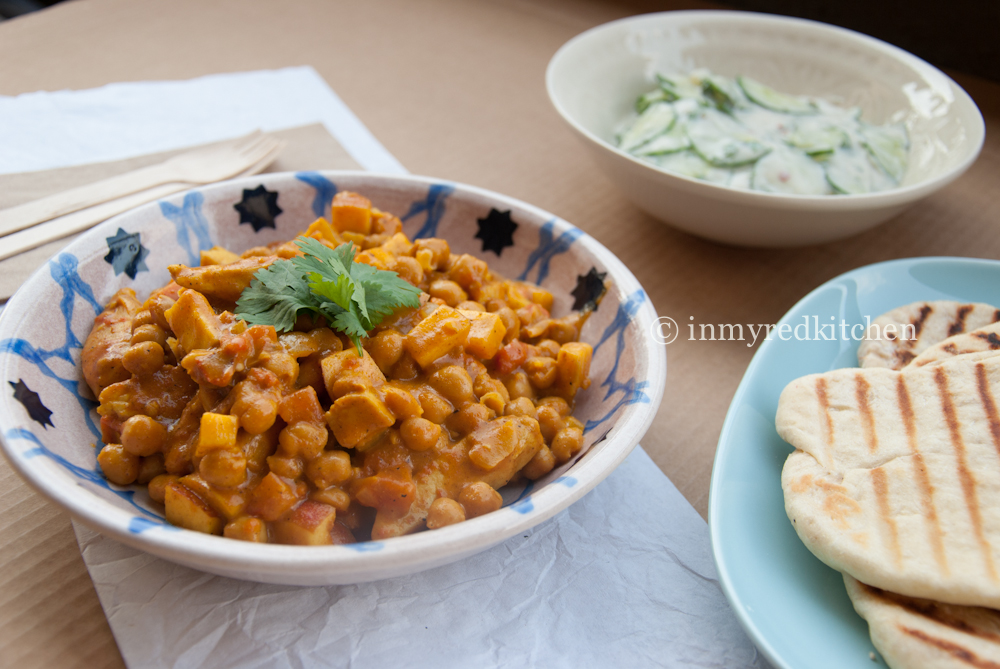 So here is my version of the Indian Chicken Madras, but then without a box with a 'prefab' mix. I made the mix myself with ground spices after reading some recipes. This taste so good, it's the same taste as from the Wereldgerechten package but then better because now you know what you are eating!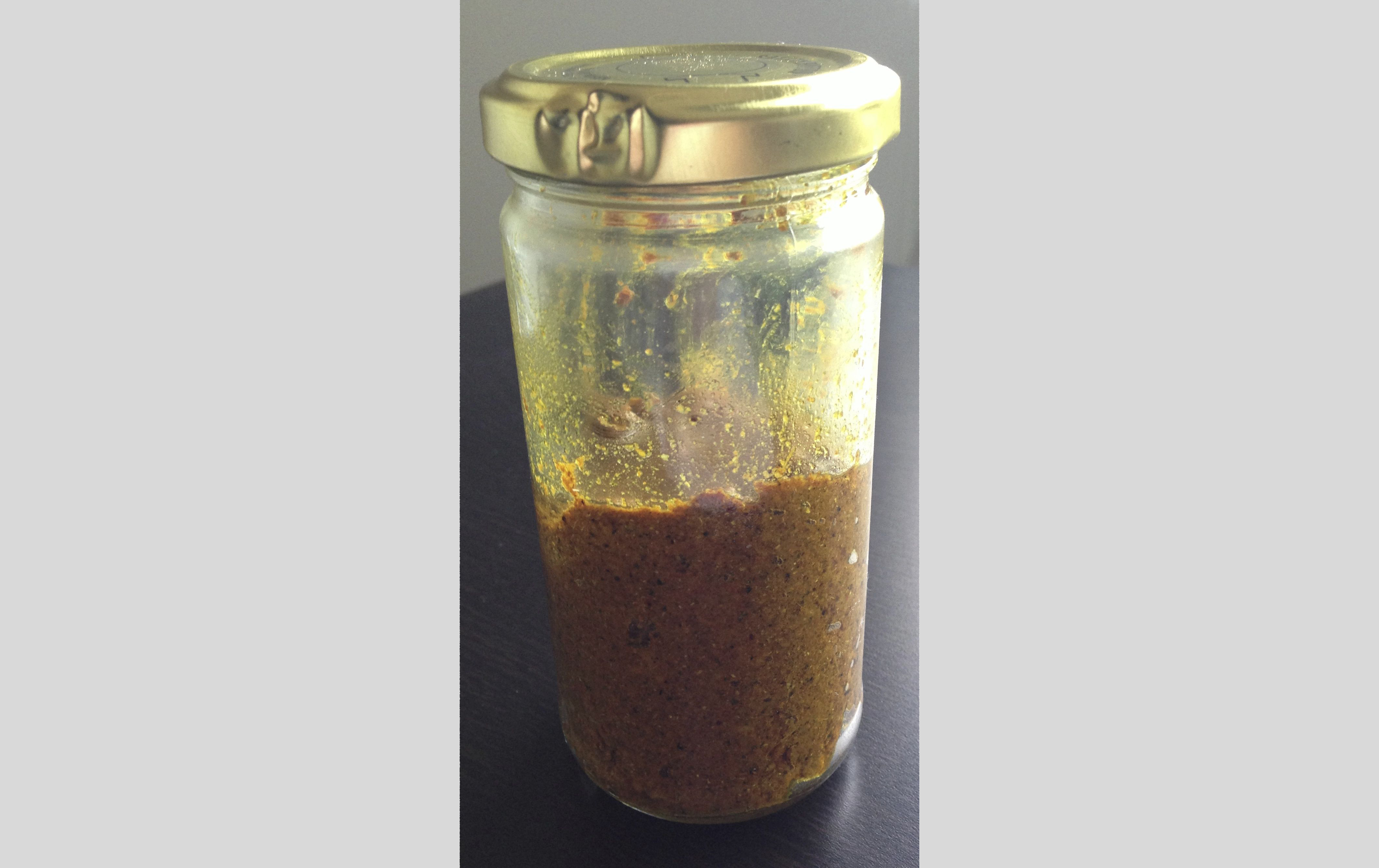 An easy recipe to make your own Madras curry paste. You can keep it in the fridge for a long time so you can always have some in stock!
Ingredients
4 Tbsp ground coriander
2 Tbsp ground cumin
½ Tbsp ground turmeric
2 tsp black pepper
2 tsp ground mustard seeds
1 tsp chili powder
5 garlic cloves, pressed
2 Tbsp ginger, grated
2,5 Tbsp canola oil
2 Tbsp lemon juice

small jar
Instructions
Mix all the ground spices by putting them in a small jar, screw on the lid and shake well.
In a small bowl mix the garlic and ginger and the mixed ground spices.
Stir in the oil and lemon juice until a paste.
Transfer the paste back to the jar. You can keep it in the fridge for a long time, make sure there is a tiny layer of oil on top.
Notes
This curry paste can used in lots of curry recipes.
https://www.inmyredkitchen.com/chicken-madras-curry/
Copyright Ellen Bannink- in my Red Kitchen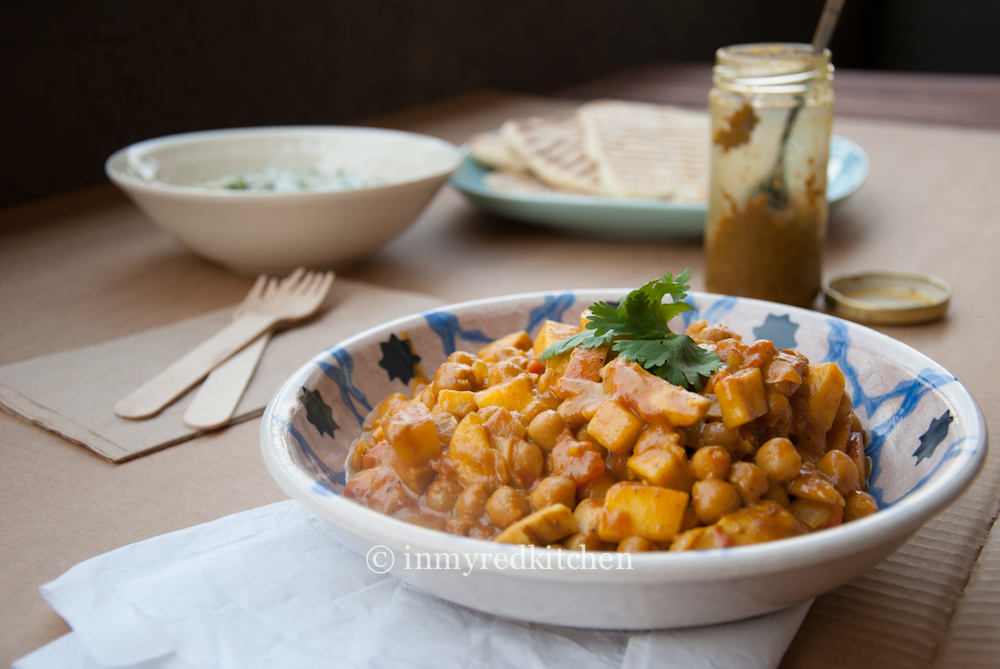 This 'chicken Madras' is such a good recipe, it was my favorite years ago. But then it came from a 'prefab' mix, now I make it myself!
Ingredients
1 organic chicken breast (about 8-9 oz)
2 Tbsp canola oil
1 cup of onion, chopped
2 garlic gloves, pressed
2 tomatoes
14 oz can chickpeas (garbanzo beans)
2 Tbsp Madras curry paste
14 oz can coconut milk
1 apple
salt & pepper to taste

White rice and/or naan to serve
Instructions
Cut the chicken breasts in strips and season them with salt & pepper.
Peel the tomatoes click here for instructions how to and cut them in 1" pieces.
Chop the onion and drain the chickpeas.
Heat 1 Tbsp of oil in a wok over high heat. Cook the chicken strips until brown, use a skimmer to transfer the chicken to a bowl. Set aside.
Heat another tablespoon of oil in the wok and cook the onion, garlic, tomatoes and chickpeas for 5 minutes until tender.
Add the curry paste and cook for another minute, keep stirring.
Add the coconut milk and stir well, now add the chicken again.
Let it simmer for about 10 minutes till the curry sauce is thick.
Meanwhile prepare the rice.
Wash the apple and cut it in 0.5" pieces. Add it to the sauce and let it heat for 1 minute.
Add salt and pepper to taste and serve the Madras curry with rice and/or naan.
Also goes great with a cucumber raita!
https://www.inmyredkitchen.com/chicken-madras-curry/
Copyright Ellen Bannink- in my Red Kitchen
Enjoy!