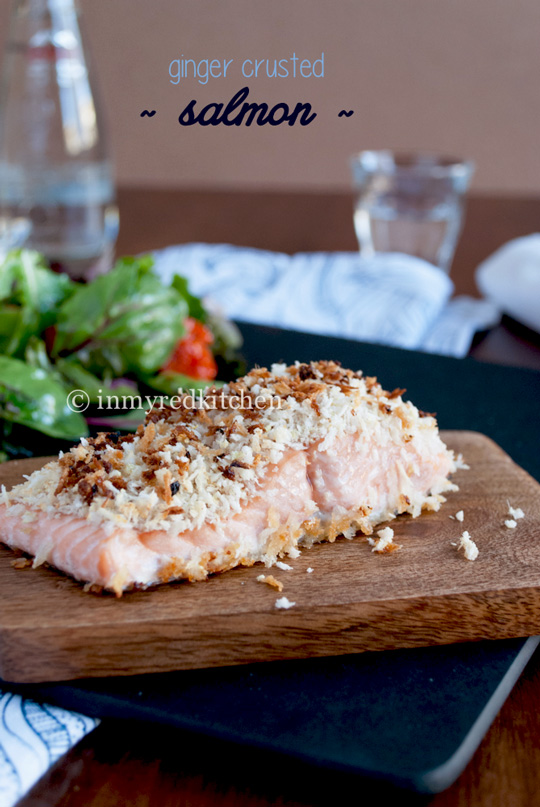 I try to eat fish twice a week so last week I was looking for some new recipes for salmon. I couldn't decide which one to chose and suddenly I remembered I hadn't made my own recipe for Ginger crusted salmon in a while.
So I stopped looking for new recipes and went to the store to buy some fresh ginger and made this delicious salmon recipe. This one is so good and I wonder why I don't make it more often 😉
I posted this recipe on my Dutch blog over a year ago but I HAD to share it again here. And no, not because those pictures I made back then were awful 😉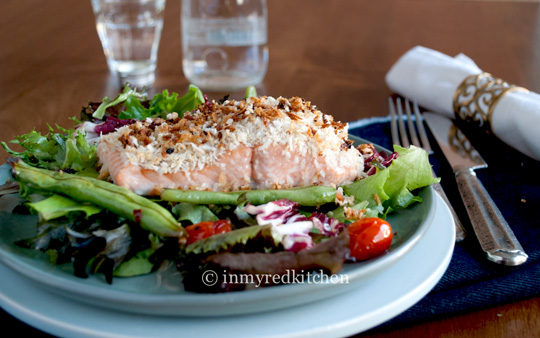 Do you know Karl Strauss in San Diego? It's a brewing company with some restaurant locations all located in or around San Diego. For me it would be a reason to plan a trip to San Diego 😉 Well… euh… let's say that in another way: if I'm in San Diego I would definitely go there again. On holiday, one and a year ago, we ate there twice in one week. I had a really good burger at our first visit and P had some heavenly pork chops, they were just perfect.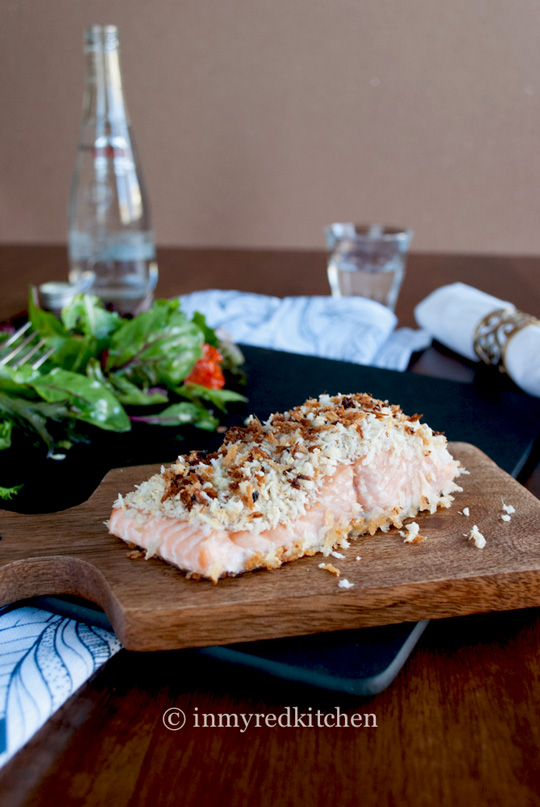 During our second visit I ordered a pasta but that wasn't anything special. But that husband of mine, he knows how to make a good choice because he ordered a delicious salmon. Which had a ginger crust. Just sayin'.
It was so good that I had to make it at home. So I did.
And it was easy. So here you go, here is my recipe for Ginger crusted salmon, inspired by Karl Strauss'.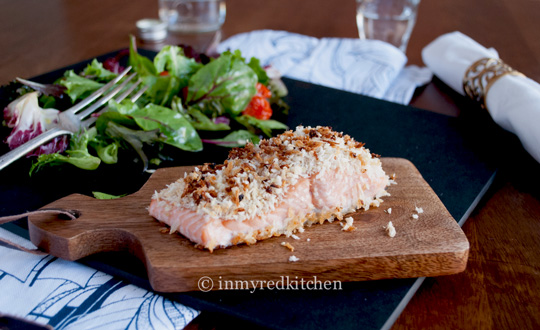 This salmon is covered in a gingered panko crust. It's easy to make so that makes it perfect for busy weekdays!
Ingredients
2 Salmon filets of good quality, with skin
1 cup panko
1 Tbsp grated fresh ginger
1 tsp lemon zest
1 tsp black pepper
pinch of salt
Instructions
Add the grated ginger, lemon zest and black pepper to the panko. Mix well (use you fingers) and if possible, let this stand for at least an hour. If you have time for that, otherwise you can just go on with step four. But remember it's better to prepare this and let it rest so the ginger can spread it's flavor to the panko 😉
Preheat the oven to 430 degrees Fahrenheit.
Sprinkle some oil on a baking sheet, no need to use parchment paper.
Get the salmon and season with some salt.
Now put the salmon on the baking sheet, move a little from left to right and back so the skin is covered in oil. Lay a thick layer of the gingered panko on top:
Bake the salmon in the oven for 12 - 15 minutes, until (medium) done. If necessary, use the broiler for a minute to brown the panko crust.
Serve with a green salad, fried rice or some fries.
Notes
I like my salmon to be medium done but feel free to change the baking time to whatever you need to make your ginger crusted salmon perfect for you!
https://www.inmyredkitchen.com/ginger-crusted-salmon/
Copyright Ellen Bannink- in my Red Kitchen
Enjoy!