Every Wednesday morning I go on a hike, that's my main workout during the week. Up and down the Santa Monica Mountains in 1,5 hour. Bam! 1200 calories burned! Every other weekend P and I also do a hike and twice a week I do some short workout routines on YouTube.
I tried to do a walk three times a week in the neighborhood and although I liked it it was so time consuming! Since I started hiking on my own I look forward to Wednesdays. Ha yes! I'm looking forward to Hump Day 😉 I'll bet I'm the only one!
My hike is just great, it has beautiful views over the ocean, a paved path, lots of history marks and some great wildlife. Blue Jays, rabbits, hummingbirds, woodpeckers, lizards and even pheasants!
But apparantly there is also other wildlife in the Santa Monica Mountains that I don't see. Rattlesnakes, coyotes and even mountain lions! And that scares me. Even though I know they probably don't live so close to the city.
I did a google search to find out when rattlesnake season starts because I don't know anything about them. Will they bite me? What should I do if they bite me?
Luckily my hike has a wide paved path, and I'm walking in the center from now on so I won't be surprised by snakes!
But then it got worse…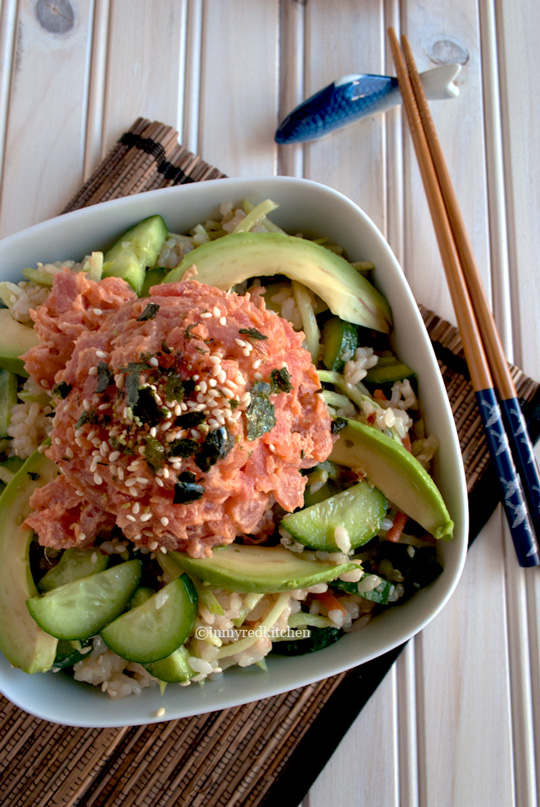 I wanted to see how a coyote looked like to freshen my memory. And this mountain lion, how big are they actually? Should I worry about it?
And there it was… I started to worry about coyotes, rattlesnakes and mountain lions while hiking. So with every rustle in the bushes I'm alert, at every cracking of the trees I'll pause my music to listen carefully. Only to know that it's just a little bird looking for twigs to build its nest or a woodpecker high in one of the trees.
Until last week. There I was, standing eye to eye with a brown beast.
A brown pit bull without a leash… I was terrified! I don't like dogs without a leash, and with the mountain lions and coyotes in the back of my mind I really didn't liked this dog. Where was its owner? How could I scare away this dog? With my pink water bottle maybe? Should I hit him if he attacked me? Or just throw some water?
But luckily there she was, the owner of the dog… Pfew!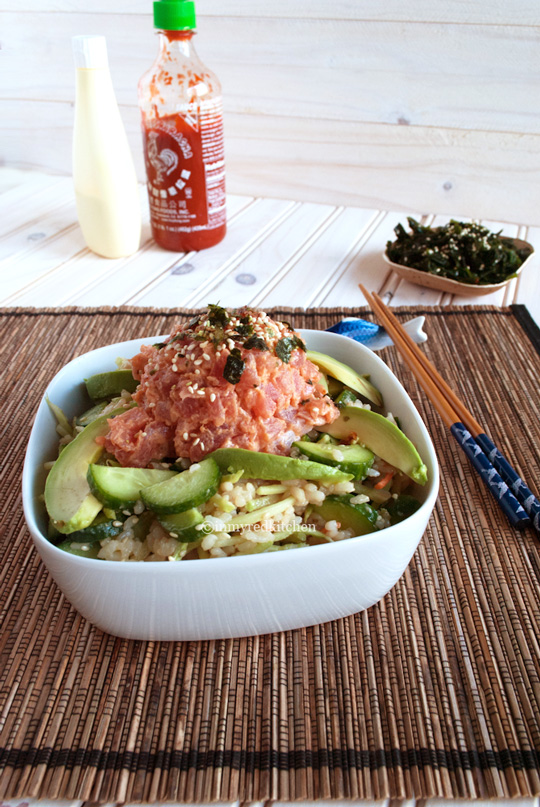 I was relieved, but I still had to pause for a minute to gasp for air and to stand firm on my legs again, they were literally wobbly!
For the next couple of weeks I will keep on thinking about mountain lions and coyotes while hiking, but I'm sure that will pass 😉
Besides hiking and YouTube workouts I'm also eating lots of salads during the week to stay healthy. This spicy tuna with cucumber salad is one of the salads I recently made.
I never liked tuna because I didn't want to think about which tuna I should and shouldn't eat. So I just didn't ate tuna. In The Netherlands they have a great variety of salmon sushi, and I noticed this is different in the US. Booo! I like the salmon ones!
So since we moved here I eat tuna, especially the spicy tuna! A typical American invention, because it's made with sriracha 😉
A perfect quick weeknight meal, and you get to make your own spicy tuna! It's so easy, even your husband can make this 😉 (I know mine can!)
Spicy tuna with cucumber salad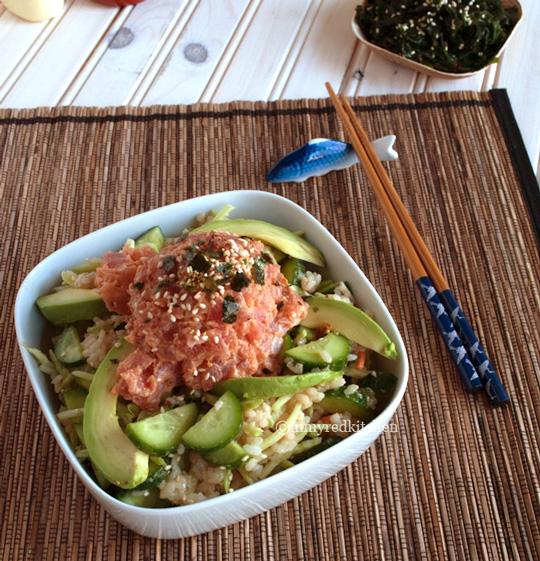 Spicy tuna as a salad, served with sushi rice and cucumber. Who knew making your own spicy tuna was so easy?
Ingredients
1 cup sushi rice
1 lb tuna (ask for 'sushi tuna'!)
¼ cup kewpie mayonaise
1 Tbsp sriracha
6 persian cucumbers (or 1 normal size cucumber)
4 cups broccoli slaw or shredded carrots
2 avocado, sliced
2 Tbsp sesame oil
1 Tbsp soy sauce
1 Tbsp + 1 tsp rice vinegar
2 Tbsp sesame seeds
Instructions
Wash the rice under running water until the water is clear. Cook the rice according to the instructions.
Cut the tuna until fine. Mix the mayonaise with the sriracha until combined and add this to the tuna. Mix until combined and set aside.
Cut the cucumbers in half and slice them in ¼ inch slices. Toss with the broccoli slaw and the avocado.
Mix the sesame oil with the soy sauce and rice vinegar and add it to the cooked rice. Add the sesame seeds and mix until combined.
Add the seasoned rice to the cucumber mixture and toss until combined.
Serve in bowls with the spicy tuna on top and garnish with sesame seeds and dried seaweed pieces (optional).
https://www.inmyredkitchen.com/spicy-tuna-cucumber-salad/
Copyright Ellen Bannink- in my Red Kitchen
Enjoy!