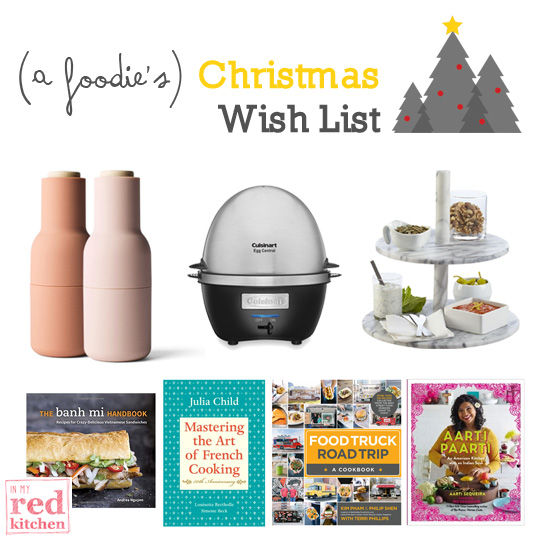 Just as last year's Christmas gift guide for foodies, I created a wish list again for this year! I have no hard time at all buying Christmas gifts for my husband P, but I know he has a hard time finding something for me!
I don't blame him, because it ís hard to buy something for a lucky girl who already has everything, including an amazing and understanding husband 😉
Last year my list was quite successful, he gave me that beautiful enamel sauce pan, a pasta machine ánd a cheese board. Lucky me!
This year I created a new list to help him to find presents. And to help you! Maybe you have a hard time creating your own list or it could be that you want to surprise your foodie friend with some great gifts.
I'm sure each item on this list is a success!
And… no need to go out shopping, just curl up on the couch with some hot chocolate and your laptop and order everything online. The links are at the end of the list.
Here we go!


[1] KitchenAid accessories, first thing on my list: pouring shield à $29.99. Also welcome: a flex edge beater ($49.99), an extra bowl ($59.99) or an ice cream maker attachment ($99.99)
[2] No kitchen is complete without gorgeous salt & pepper bottle grinders. I love these grinders by Norm Architects for Menu ($60.00) at DLK
[3] Cut resistant kitchen gloves ($12.95), to protect my fingers and fingernails when I use (and clean!) the mandoline slicer on Amazon
[4] After a year, an egg cooker ($39.95) is still on my list! For different models, see this list on Amazon
[5] Every foodie can use some fantastic looking serving pieces (always!), e.g. this marble two-tier server ($35.95) at CB2
[6] cookbooks of course! This is my Top 4 wish list:
The Banh Mi Handbook
($10.74) on Amazon
Mastering the Art of French Cooking
($22.60) on Amazon
Food Truck Road Trip–A Cookbook
 ($17.18) on Amazon.
Aarti Paarti: An American Kitchen with an Indian Soul
($21.62) on Amazon

And because foodies also like other things:
[7] a beautiful geometric throw for on the couch and to use for a nap after a long day in the kitchen ($69.99) CB2.
[8] Pedicure foot spa – I really need this after walking on sandals almost all-year round! ($34.99) on Amazon
.
[9] Art prints for that empty wall in our bedroom. I like these:
Just rocks poster ($40) on DLK
Los Angeles typo map ($20) on Etsy
Flamingo Watercolor Print (various sizes and prices) on Etsy
Happy Holidays!