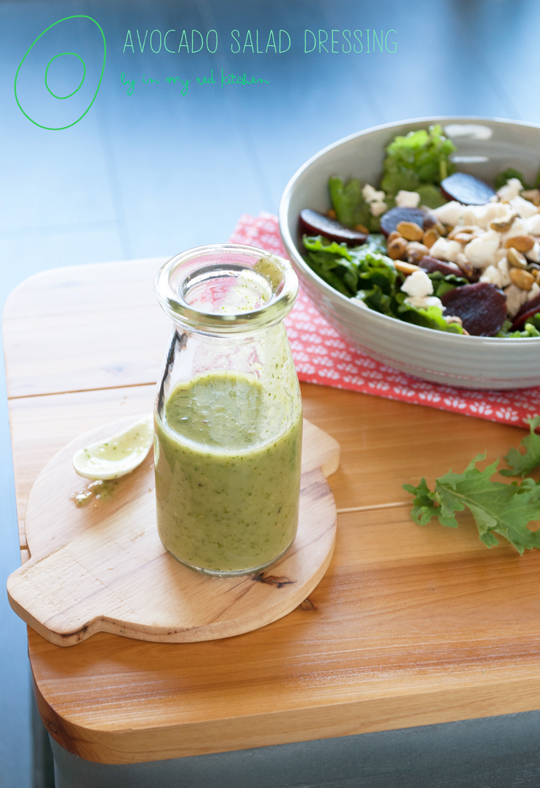 – Click here for this recipe in Dutch -> Groene avocado dressing –
Warning: this might be the shortest blog post ever written bij me. I have 0.0 inspiration right now because it's way too hot to think in LA. I am so glad that I don't have a real job, because I'm totally worthless right now.
I have just moved my laptop to the dining table where an air conditioner is hanging next to it. Of course it helps a bit, but for a few days now I walk around a bit sluggish and I take afternoon naps. Oh no, siestas! That word fits perfectly with the heat.
But I'm not complaining, I'm so happy that I can adjust my schedule to stay home and take siestas. I also really don't want to think about cooking right now, I can only think of crispy salads and raw pressed juices. I am very pleased with the jar of avocado salad dressing in my fridge. Because even think about other dressings is a step too much 😉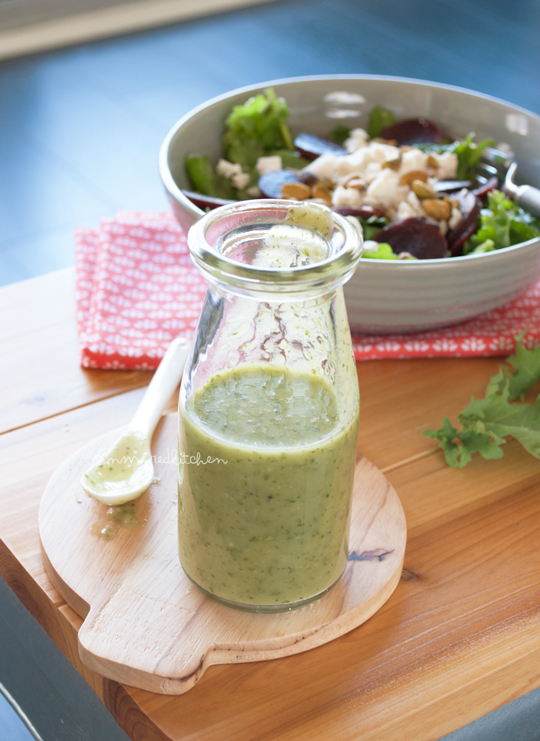 If you are on Pinterest then you have probably seen the 'green goddess dressing'. The modern version of this salad dressing is based on avocado but the traditional version contains absolutely no avocado at all, only mayonnaise, sour cream and lots of green herbs. I thought it was surprising, to make a dressing from avocado. We eat at least 4 avocados a week and I'm always open to more ways of using them.
And I found a new way! The result is a super tasty dressing that gives a guaranteed surprising twist to your salad! And besides that… no mayonaise or cream. The avocado is already creamy enough by itself.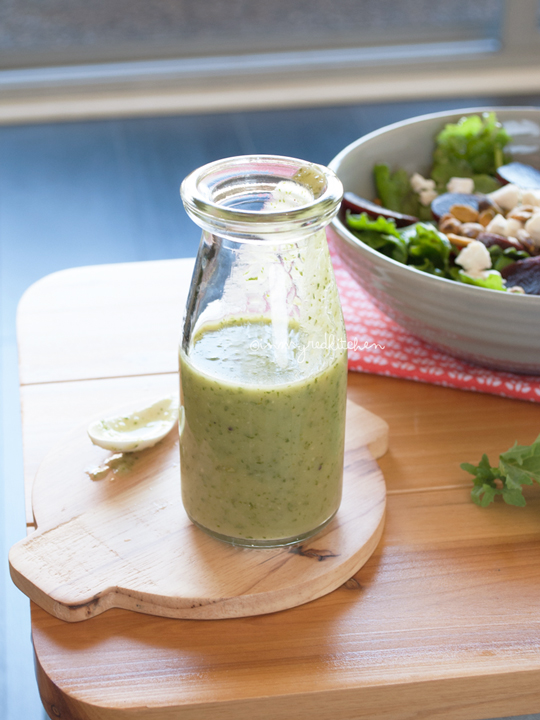 A simple and dairy-free salad dressing, but still creamy because of the avocado
Ingredients
1 ripe avocado, peeled and pitted
1 thick slice red onion (peeled of course)
1 clove garlic
2 Tbsp fresh lemon juice
zest of 1 lemon
2 Tbsp red wine vinegar
5 – 7 Tbsp water
2 Tbsp olive oil
1 handful spinach
1 handful parsley
salt & black pepper to taste
Instructions
Blend everything together in a food processor or high speed blender until smooth.
Add extra water if you want a thinner consistency, stir well.
Store in a clean jar or airthight container for up to 5 days.
https://www.inmyredkitchen.com/avocado-salad-dressing/
Copyright Ellen Bannink- in my Red Kitchen
Enjoy!