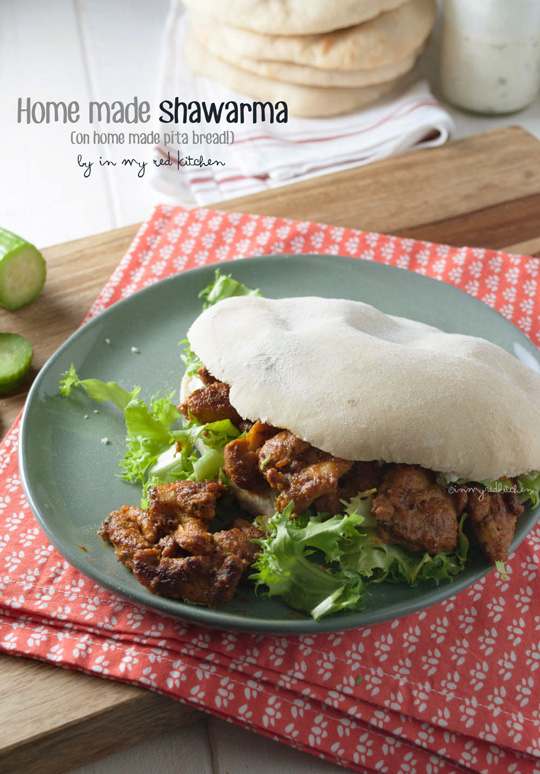 – Click here for this recipe in Dutch -> Shoarma zelf maken zonder pakjes –
Home made shawarma om freshly baked pita bread with garlic sauce, who doesn't like that?! We ate this regularly on Saturdays when I was a teenager, and I still think it's delicious!
When I was 17 I was working at the supermarket, in the butcher shop, on the weekends and Thurday evenings. On Saturdays I had to start at 7am or 8am and in the end I was the one running the butcher shop.
Making ground beef (every day), crushing cutlets, making lots of 'filet americain' at the weekend, chopping the pork chops, shaping hamburgers, making sausage with real guts, cutting steak, filling cordon bleus and also making shawarma. At the end I really hated making the 'filet americain', it's a kind of steak tartare mixed with a flavored mayonnaise sauce. During the week we sold filet americain that came in ready-made, but over the weekend we made it ourselves and that filet americain was really popular. You just finished a new batch and then we could start over again because it was sold out immediately and there were people waiting for it at the counter. We had to ground the steak three times super fine, and then put it in a super clean huge stand mixer and mix it with a fatty orange mayonnaise sauce. One part beef and two parts of sauce. And be careful that you don't touch it with your hands, or that it became too warm because it could spoil quickly.
Crushing cutlets, also a tedious task. The wall and your own butcher outfit were then covered in pieces of meat that flew off the cutlets and your arm and shoulder would hurt after a while because of the power and the movements. Always bummed when they were on sale 😉 Making sausage was also not one of my favorites but mainly because of the cleaning of the sausage machine, that was quite a job.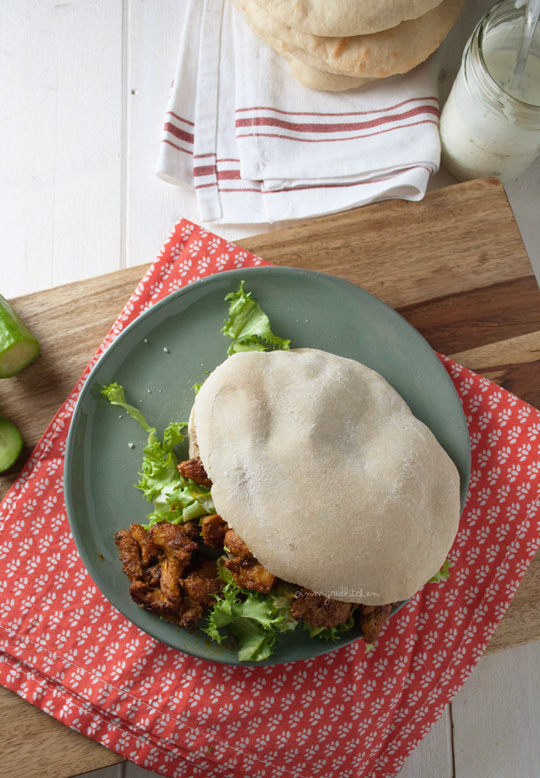 But I have learned a lot there and had a lot of fun with my colleagues. And fortunately there were also fun chores, such as filling the cordon blue and seasoning pork strips to make shawarma. I really missed that specific shawarma when I eventually lived in Amsterdam. And what do you do then? You search for the ingredients of that specific spice mix of the brand we always used in the butcher shop and you create your own mix.
And yes! Exactly as I remember! And it is now finally, after all those years that I make this myself, time to share it with you. Even better if you make your own pita bread, that makes it even more delicious.
And then serve it with raw endive/escarole and lots of garlic sauce (raw garlic mixed with mayonnaise, yogurt and chives), just like the old days!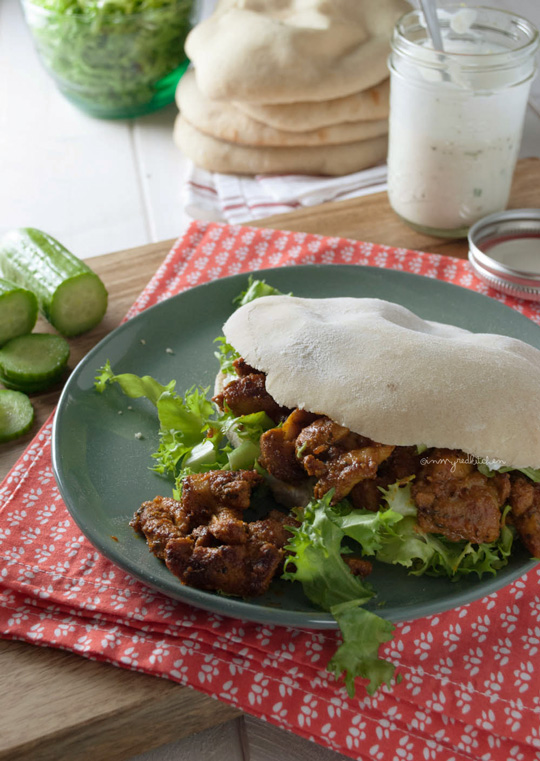 Home made shawarma, made with chicken of lamb, is so easy to make and also so quick. Perfect for game days!
Ingredients
1.5 lbs lamb or chicken, cut in strips
2 tsp cumin
1 tsp paprika
1 tsp coriander
1 tsp parsley flakes
½ tsp turmeric
½ tsp ginger
½ tsp onion powder
½ tsp garlic powder
½ tsp cellery salt
½ tsp black pepper
½ tsp ground mustard
¼ tsp cayenne pepper
¼ tsp nutmeg
oil for baking

for serving:

coleslaw, lettuce or escarole/endive
garlic sauce
Instructions
Cut the meat in bite-sized pieces and place in a bowl.
Mix all the spices in a little jar, close the lid and shake until combined. Use this to marinate the meat.
Heat the oil in a skillet over medium high heat and cook the meat until done. This only takes a few minutes.
Serve on warm pita bread with the lettuce and garlic sauce.
http://www.inmyredkitchen.com/shawarma/
Copyright Ellen Bannink- in my Red Kitchen
Enjoy!